16th May 2021 | Edited 19th May 2021
Our first experiment with OOH advertising in Rawtenstall, Rossendale
We're marking our first impression by sending a positive message to the world by placing it where everyone can see, on an advertisement spot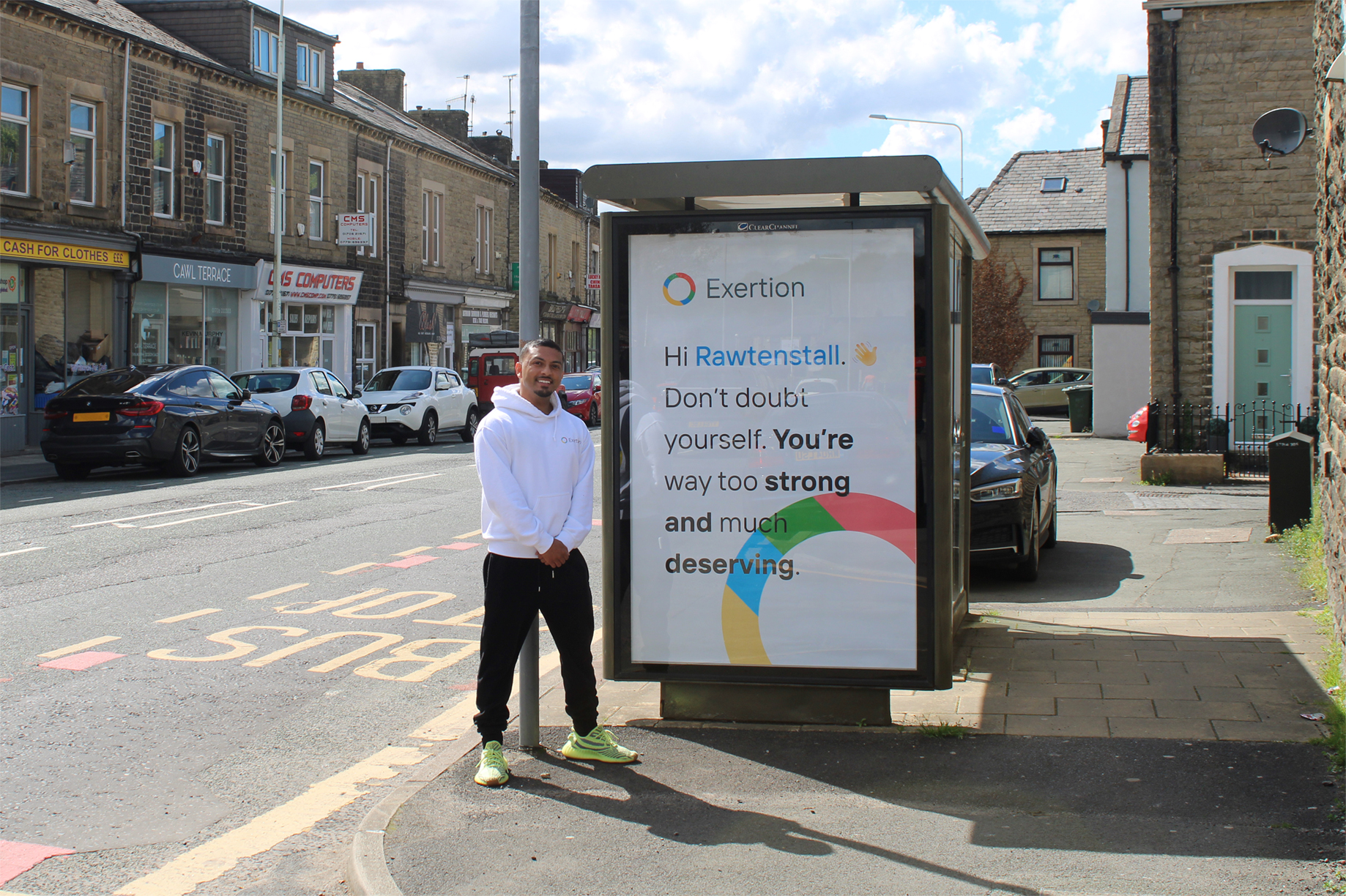 With having no prior experience of producing advertisements on physical medium for outdoors, we placed actions behind our visions once again to fuel our next endeavour from conducting research to enquiring, we had dived into this experiment not knowing completely what to expect. By the end of the process we have successfully placed our first Out of Home (OOH) advertisement into the wild.
Don't doubt yourself. You're way too strong and much deserving.
Our advertisement has been placed on Bacup Road, Rawtenstall and is situated on a bus shelter, visible to all passers-by and vehicles traveling in the contra-flow direction (i.e., the bus shelter is on the opposite side of the road from the lane they're driving on – or the lane they should be driving on!).
As this is our first experimentation with OOH advertising, we selected Rawtenstall, Rossendale as our first trial location as it is the current hometown of our company's founder, Arif. As we have embarked on this initial venture and gained the necessary experience, we plan to scale our efforts to a national level, securing multiple sites across the UK for future prospective campaigns.
Why we undertook this venture?
In aims to uplift people's spirits and confidence, in an unconventional manner for advertisements, rather than promoting a product or service we've decided to send across a positive motivational message, especially in these trying times with the on-going COVID-19 pandemic that has affected everyone internationally. We want our audience (limitlessly everyone) to feel inspired, boosting their confidence and removing any hesitation, uncertainty and doubts that maybe internalised stopping them from achieving their dreams and goals, no matter how small or large.
Thanks to the agreements we now have in place with Clear Channel, our OOH advertising media partner, we have established and unlocked the infrastructure for all our future campaigns which can range from bus shelters, shopping malls, digital screens and even billboards. Working with Clear Channel (CC) has been a pleasurable experience, from the initial enquiry phase to ultimately having the advertisement displayed.
The whole project undertaking was an exciting ice breaker introducing us to the world of OOH advertising, from understanding the costs involved, liaising to secure a location, designing the artwork in a high-resolution up-scalable format using Adobe InDesign, printing to conclusively the placement.
We look forward to working with CC again and continuing to positively reach you and our audience in the future in more locations. Thank you to the CC team for making this possible and to you too for reading and partaking interest. We hope to see you again soon!